Chris Lucas, Martin Benn and Vicki Wild's Society restaurant will finally open its doors in Melbourne.
The 80 Collins venue has weathered a series of lockdowns and delays over the past three years, but will launch to the public on 22 July.
Lucas says the venue captures the energy of the city and that the creation of the restaurant has been a truly collaborative experience.
"It is with great pride that we can finally look at opening our exciting new dining destination and add another dimension to Melbourne's already incredible restaurant scene, which has been such a big part of my life," says Lucas.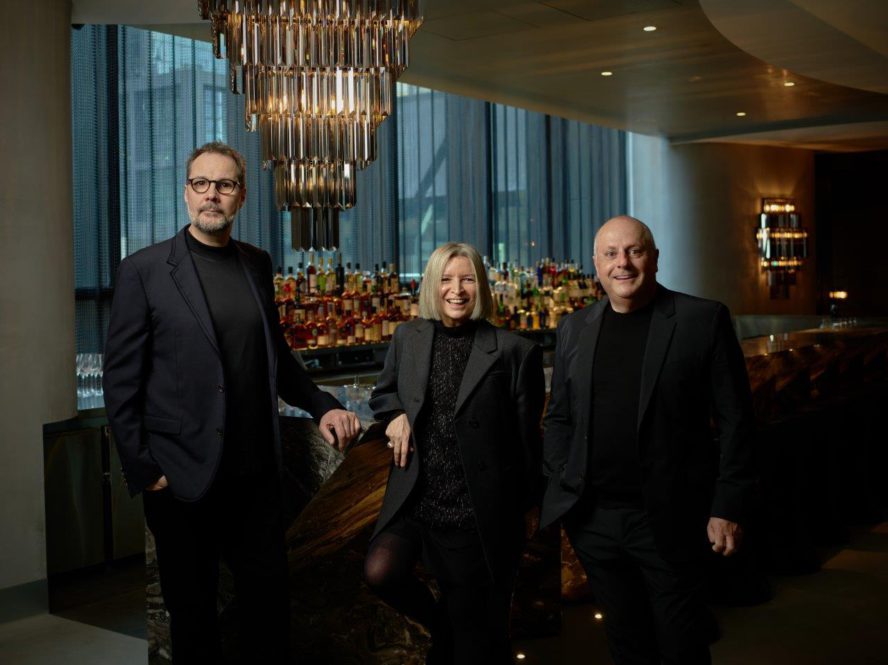 Benn has curated a number of menus across the venue, with a six-part a la carte menu on offer at the Dining Room.
Guests will be able to create their own culinary experiences and select dishes to share or enjoy solo.
Launch dishes include bonito, ume yuzu and roast chicken jellies along with Albacore with shiso and rhubarb. Blackmore Wagyu beef rip cap will be served with wasabi butter, sweet onion and Japanese pickle and is one to be shared.
The Lilian Terrace's culinary offering will draw on Benn's UK roots and experience with European cookery.
Soy-glazed roast duck leg will be served with grilled cucumber, caviar lentils and apple along with spice-roasted crown of chicken with tomato, chilli and charred lime cooked over coals.
Former Fat Duck and Dinner by Heston Blumenthal Melbourne Sommelier Loic Avril has curated the wine list, which has not one, but two by-the-glass lists.
A dedicated Coravin list sees more than 40 vintages on offer and Dom Perignon is available by the glass, too.
Society Lounge focuses on the martini, with a caviar option infused with the ultra-luxury item. To top it off, the drink is served with a caviar pretzel with smoked cream cheese.
Orlando Marzo has created the cocktail list and Jarryd Bryant will be mixing drinks behind the bar.
Bookings for the Dining Room are now available, with the space opening on 22 July for dinner. Lunch on Friday, Saturday and Sunday will launch on 13 August.
The Lilian Terrace will open on 5 August for dinner before lunch service launches on 13 August.
There are no reservations for the Lounge and private dining spaces will open on 16 August.