The doors of Hinchcliff House quietly opened in April, with the former Sydney wool store set to host a number of venues over four levels.
House Made Hospitality are behind the project, which is located in the Quay Quarter development on Young Street.
Basement bar Apollonia is now operating, with the Sicilian-inspired drinking den taking cues from The Godfather character.
The Negroni is on show at the bar with pineapple and classic iterations available alongside spritz, spirits, Amaro, wine, beer and a generous list of Italian-inspired cocktails.
"Apollonia is the perfect reflection of our city and our people. We're just a little bit mysterious, just a little dark but full of love," says Scott Brown, House Made creative director.
The ground floor is home to all-day eatery Grana (grain), which also sees a connecting bakery selling coffee, pastries and to-go options such as sandwiches.
The culinary team are making flours in-house using heritage grains from New South Wales that are ground in a stone mill that sits in the bakery's window.
Grana is currently operating six days a week from 6:30am until 11:00pm, beginning the day with a breakfast menu spanning folded eggs, steel-cut oats and a crab omelet before moving into pastas, proteins, seafood and salads and sides for lunch onwards.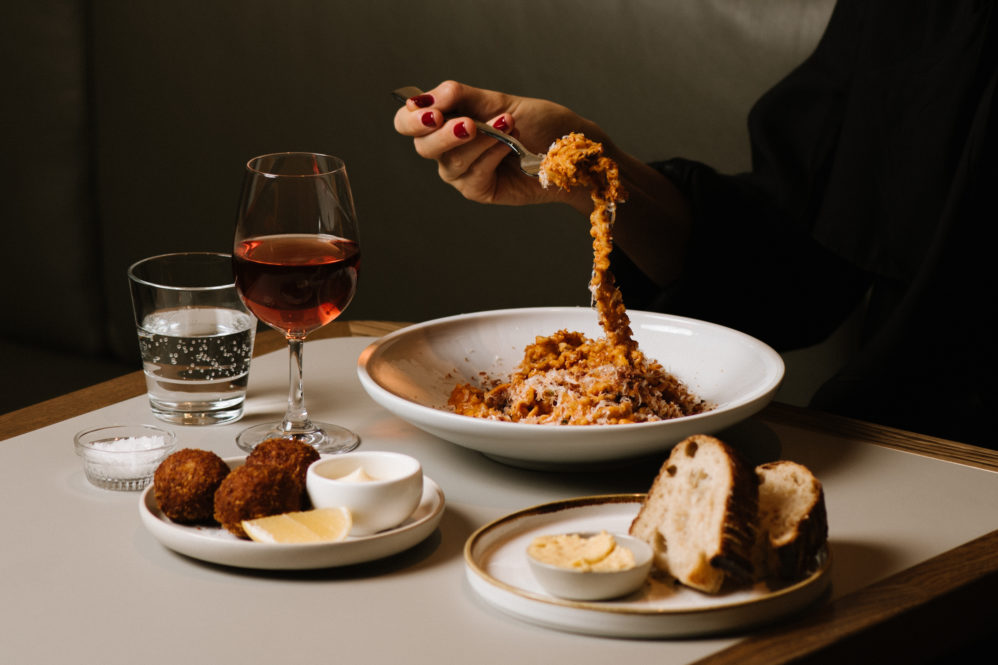 Lana restaurant is set to open in the coming weeks on level one, and will see a more formal restaurant offering come to life complemented by artist installations and a subtle interior scheme.
An upper-level events space is bumping along, with a next-door dessert and drinking concept also in the works.
Image credits: Jiwon Kim