The small blue fruit is one of the most popular in Australia, but has only been grown on home soil for the last 50 years.
Origins
Blueberries are perennial flowering plants from the Ericaceae family, genus Vaccinium, which also includes cranberries, bilberries and ligonberries. Blueberries are native to North America and Canada, with highbush and lowbush the most common varieties.
Blueberries were firstintroduced to Australia in the 1950s, however the attempt was unsuccessful. The Victorian Department of Agriculture imported seeds from the US in the '70s, which led to the creation of a commercial industry by 1974.
Highbush and rabbiteye are the most common varietal families grown across Australia. Northern highbush are produced in Victoria, Tasmania and Southern New Sales Wales with southern highbush grown in Northern New South Wales and Southern Queensland. Rabbiteye is produced in Northern New South Wales and Queensland.
Blueberries are grown in all six states of Australia; however New South Wales produces the most fruit, to the tune of 84 per cent.
Growing conditions and harvest
New blueberry plants are grown from cuttings clipped from established plants. They are planted in trays and moved to an open field after around five months. It can take up to three years for bushes to flower and fruit.
Rabbiteye and southern highbush can tolerate warmer and more humid weather conditions compared to the northern highbush, which grows best in areas with cold winters. Highbush blueberries are  grown in sandy or loam soils and require acidic soil with good drainage. Special attention should be paid to irrigation as blueberry plants may not show any signs of over- or under-watering.
The plants should have full sun and typically peak between October and February, however are grown from July to April. Blueberries are ready for harvest when they have turned red-purple or blue in colour. They are usually picked by hand due to the delicate nature of the fruit.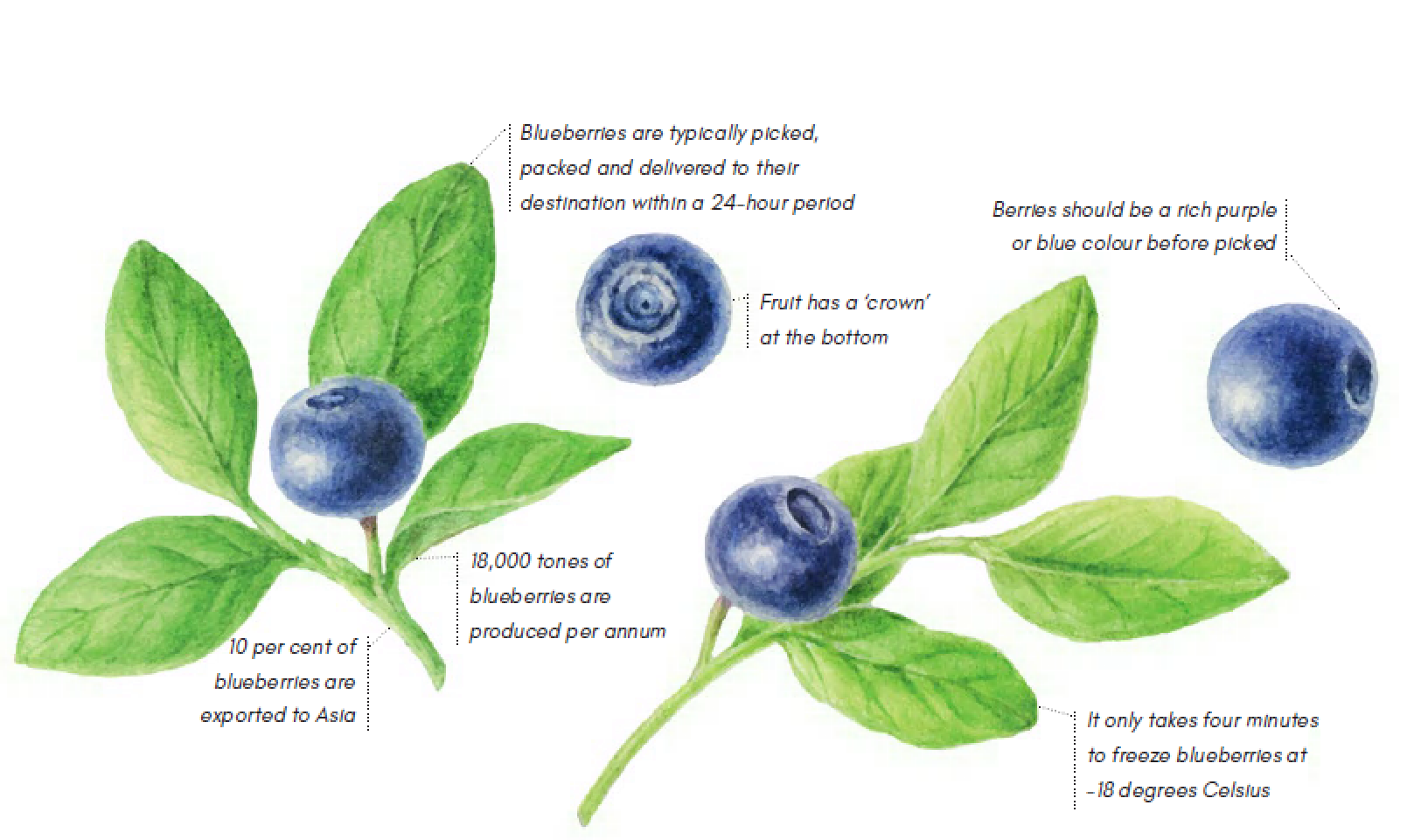 Flavour profile and appearance
Blueberries grow on woody shrubs that can reach up to 4m in height. The plants are covered in green leaves and clusters of urn-shaped flowers. Fruit is initially pale green before ripening to a red-purple colour and finally dark purple/blue.
The berries have a 'crown' at the top and are coated in 'bloom' — a powdery substance that indicates freshness. Blueberries have a sweet taste when mature, with varying levels of acidity. The berries are juicy and can sometimes have tart characteristics.
Culinary uses
Blueberries can be used in multiple applications depending on whether they're fresh, dried, frozen, preserved or cooked. The fruit is commonly used to make jams and compotes as well as cakes and other desserts.
Image credit: Healthline