The face of a growing business empire and an integral part of what's become the best advertisement for Australia's hospitality industry, George Calombaris is this year celebrating a significant milestone, and in a recent conversation with Danielle Bowling, he reflected on just how far he's come.
He may have 20 years of cheffing experience under his belt and a fine diner celebrating its 10th birthday this year (a true feat in this industry), but George Calombaris still has plenty left in the tank.
At 38 years of age, he oversees Made Establishment, which today comprises five different dining concepts ranging from the 32-seat fine diner, The Press Club, to Jimmy Grants, Calombaris' foray into the booming 'fast casual' sector.
When Hospitality spoke with him, the group was about to launch its first interstate venture, a Jimmy Grants outlet at The Kitchens food precinct in Robina, Queensland, and a restaurant is due to open on Sydney's Albion Street, Surry Hills next year.
Calombaris has claimed a swag of industry awards including being named Chef of the Year in The Age Good Food Guide (2008) and Entrepreneur of Year (Southern Region Emerging category) in the 2011 Ernst & Young Entrepreneur of The Year Awards. As a young chef he represented Australia at the 2003 Bocuse d'Or International Culinary Grand Prix in Lyon, France, and was even the subject of one of this year's winning Archibald Prize portraits.
His first ever restaurant, The Press Club has been donned with two hats by The Age and was named Best New Restaurant in 2008. But accolades are not a measure of success for this son of Egyptian and Cypriot migrants.
"Put the awards, the recognition and all that stuff aside," he said. "It's an exciting thing to know that we've been a profitable restaurant for 10 years. And profit doesn't mean the amount of money you put in your pocket – well, it does – but more than anything, it's the fact that we pay our suppliers and we pay our staff. We've done things the right way and I think [The Press Club] has been the backbone and the impetus for the rest of the group.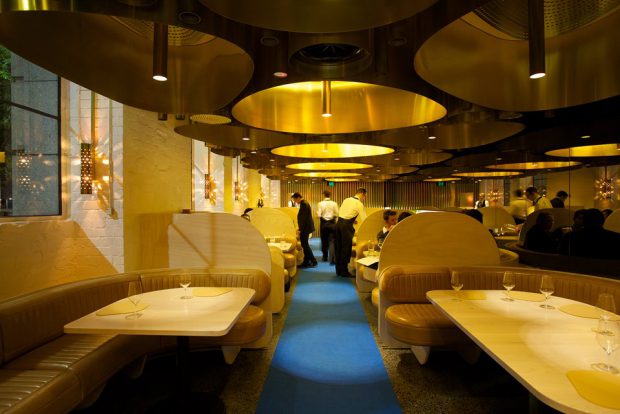 "Without The Press Club there would never have been the Hellenic Republic, and without The Press Club there would never have been Gazi or Jimmy Grants. There would never have been Mastic, there would never have been me travelling around the world, or George on MasterChef. The Press Club is my credibility, and when I moved it a couple of years ago (from Exhibition Street to Flinders Road, some 600m away) I could have shut it in its entirety and put a Jimmy Grants there, but I didn't want to choose the easy way, because that place feeds my soul and my creativity, and it makes so many people happy," Calombaris said.
Shifting priorities
To say that Calombaris works hard is an understatement. He's as hands-on as he can be at each of his restaurant concepts, given the significant filming and promotional commitments that come with being one of three judges on MasterChef Australia – the Channel 10 reality TV program which first hit the small screen in 2009 and has been the catalyst for significant growth in the restaurant industry.
Like many restaurateurs, Calombaris said today's diners are more educated and enthusiastic than ever, and as excited as he is about this progression, he admits that his focus has shifted from being customer- to staff-centric.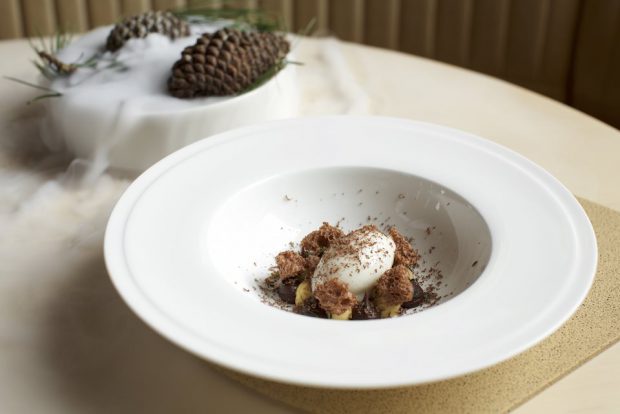 "I never used to be too conscientious about my staff; I'll be quite honest," he told Hospitality. "I used to lead with an iron fist. I don't do that anymore. For me, it's 100 percent about my staff … The customers will get looked after by my staff. Don't get me wrong – I'm in there everyday and I'm around customers. But what I'm trying to say is that I've got a responsibility to really look after my staff, every single day."
So what changed? What prompted his shift from dictator to democrat?
"I guess I just got to the point where I was sick of everyone whinging about their staff, and me starting to talk like that as well. I don't want that. My industry is a beautiful place. If I'm negative, negativity breeds negativity. I don't tolerate it."
Calombaris acknowledges that recruiting and retaining the right people is a significant challenge in the hospitality industry, but unlike many operators, he feels that by and large, the problem lies with the employer, not the employee.
"It's a massive issue because we make it an issue. I'm sick of the excuses. I'm sick of hearing 'we can't hold onto our staff; they don't want to work.' Well, why don't they want to work? We've got to understand that the industry has changed dramatically and if we don't change with it we're going to be left behind. I am not going to be left behind.
"We've started to implement four day weeks at The Press Club … They're not doing the 100 hour weeks that I used to do. I don't want them to do that. It puts pressure on your relationships and on your life outside of work. What I want is not that bullshit word 'work/life balance'. That's rubbish. I want them to love their job so much that when they're coming in, they are so pumped and excited," he said.
The Press Club staff socialise together on their days off, Calombaris sends them on off-site training days with different food producers, and will even take them to the opera. Regardless of whether they're the kitchen hand or the restaurant manager, everyone gets a daily Order of the Day runsheet before they get to work, filling them in on what needs to be achieved that day and the role they'll play; and the staff meals are nutritious and most certainly sit-down occasions ("I don't want them standing at the bench with their asses hanging out.").
Build a good culture, stay connected with your people and be invested in their lives – both personally and professionally, and as an employer you will reap the rewards, he said.
"Take young George in our kitchen, for example. He's a red headed boy who's 19 and was on Junior MasterChef series one when he was 10. We've put him through Hellenic Republic and he just started at The Press Club last week. We've got a plan for this kid. We're not going to throw him into the deep end. We're not going to burn him out. We're going to be smart about it. We're going to have a program, and we're going to make sure we have a constant connection with him.
"I don't buy into the 'lets sit down and do an appraisal' approach. I mean, what the fuck is that? Appraisals should happen every day, on the job. It means listening to your people. Every day is a new day, and every day your staff have gone through something different. You don't know what's happened at home; you don't know what's happened on the train. Every day is an appraisal and we need to listen to them."
Investing in the future
Of course the elephant in the room is the comments Calombaris made in 2012 regarding penalty rates. He echoed the concerns of countless other foodservice operators, arguing that Sunday rates are unsustainable and a significant roadblock to profitability. Unsurprisingly, the casual workforce took offence, and Bill Shorten, workplace relations minister at the time, weighed in, claiming that low paid workers like waiters wouldn't be able to frequent Calombaris' restaurants if they weren't paid penalty rates.
Almost five years on and Calombaris said his comments were taken out of context, but he maintains that the government needs to get involved and acknowledge the contribution that hospitality makes to the Australian economy.
"It's about sitting down with restaurateurs and actually talking to them and asking what they're finding tough. Between myself, Shannon Bennett and Andrew McConnell, we probably employ close to 2,000 people in Melbourne … Imagine if the three of us went bankrupt tomorrow? Would the government come bail us out like they do Holden? We're not going to be in that position because we work tirelessly to make sure our businesses are healthy, and I'm not saying the government doesn't support us, but there's a lot more they can do.
"You can ring the Restaurant & Catering Association and get the stats from them about restaurant closures around Australia. We talk about the good news, but there's a lot of bad news too. There are a lot of restaurateurs closing their restaurants, going bankrupt and not just hurting themselves, but hurting suppliers and staff too. All I'm saying is that I don't want that to happen," he said.
"At the end of the day, my sole ambition is to look after this incredible industry and make sure it's healthy, so one day, when I do walk away from it, hopefully I've left a healthy cog in the revolving wheel and have inspired and helped people along the way."