The hospitality sector is made up of people who aren't afraid to push the envelope — and that's a key part of what makes the industry so exciting. From chefs reconnecting with the land and bartenders turning waste into cocktails to front-of-house managers raising the bar when it comes to service, it's a great time to be a part of food and beverage in Australia.

Hospitality magazine is celebrating these very people and their teams with the launch of 50 Gamechangers — a non-ranked initiative that shines a light on the professionals who are taking the industry to new heights.
Palisa Anderson, Chat Thai
After working overseas, Palisa Anderson returned to Sydney to become a second-generation restaurateur of her family business Chat Thai. Anderson has overseen the expansion of the Chat Thai brand, which now covers nine eateries along with Boon Cafe/Jarern Chai Asian Grocer. She has made huge strides in bridging the gap between restaurants and producers through Boon Luck Farm Organics. Anderson has also explored the way food affects communities outside of the kitchen and the significance of migrant cultures in foodservice through various platforms. As the industry moves towards a more conscious future, Anderson is firmly at the forefront.
Ade Adeniyi, Little Lagos
First-time Restaurateur Ade Adeniyi launched Little Lagos with the intention of bringing the spirit of Nigeria to Australia. The venue opened in Sydney's Enmore after a regular pop-up at Earl's Juke Joint and has been showcasing the diversity of Nigerian cuisine ever since. Head Chef Kemi Fajemisin is running the kitchen and creates national dishes such as jollof rice and a range of stews. Adeniyi is lauded for his ambition and efforts in representing the many ethnic communities that comprise Nigerian food and culture.
Kylie Javier Ashton, manager & consultant
The front-of-house star spent nearly a decade at Sydney's Momofuku Seiobo until the restaurant bowed out of the dining scene earlier this year. During her tenure, Kylie Javier Ashton was a force to be reckoned with when it came to bringing service professionals into an equal spotlight alongside chefs, bartenders and sommeliers. She has continued her work with Women in Hospitality, fostering up-and-coming talent through a mentoring program and recently launched tie-dye business KJ.LA. Javier Ashton is enjoying a well-earned break from daily restaurant life, but we're crossing our fingers she'll be back soon.
Sarah Baldwin, Joy
Joy is a pocket-sized restaurant in Brisbane's Fortitude Valley run by a chef and a front-of-house dynamo. To know Joy is to love it, and Sarah Baldwin has been doing things her way after recently becoming the sole owner of the business. The chef took some time out last year to rethink and rework Joy, and she's on a serious roll with the support of Maddie Sim (who doubles as a bartender). Baldwin continues to evolve Joy's hyper-seasonal menu with dishes that are enjoyed in person rather than on Instagram. But you've got to be quick to grab a seat or hope for a very rare cancellation.
Jo Barrett, Harvest Newrybar
Jo Barrett is a wunderkind who can basically do it all. Whether it's launching technical guide Have-A-Go or rearing yabbies in ecofriendly hub Future Food System (FFS) in Melbourne's Federation Square, Barrett is a huge part of the future of Australia's culinary industry. FFS has come to an end, and Barrett's next chapter will see her head to Byron Bay in early 2022 to spearhead Harvest Newrybar alongside Matt Stone as co-executive chefs. The culinary approach will focus on the best the region has to offer, with Barrett spending time in the kitchen and on the road to foster relationships with producers. The end goal? To put a more innovative and sustainable food cycle in place.
Matthew Breen, Sonny
Matthew Breen's Hobart wine bar Sonny is small in size but big on experience. The chef left Templo to open Sonny in 2019, and created a menu that pays homage to the simple things — think rotating snacks, freshly made pasta and vinyl playing in the background. Wine is a big part of the picture at the walk-in-only venue, with around 50 options available at a time covering minimal-intervention drops from Australia and some interesting varietals from afar, too.
Joel Bennetts, Fish Shop
After 14 years in the industry, Joel Bennetts is hitting his stride by the sea in Sydney's Bondi. The chef started out in the kitchen of Pier before working alongside Jeremy Strode at Bistrode. Bennetts completed stints at Three Blue Ducks, Hotel Palisade and Peppe's before taking on the executive chef role at Fish Shop in 2020. It's been full speed ahead since he joined the Fishbowl Group, with Bennetts launching takeaway-only venue Fsh Mkt in October this year and future venues in the pipeline. The chef's culinary finesse is on display at both venues through dishes that hero produce and don't skip on the flavour.
Jeremy Blackmore, Cantina Ok!
Jeremy Blackmore is one of the figures behind Sydney bar Cantina Ok! The venue has racked up the accolades and is currently sitting at number 23 on The World's 50 Best Bars list. Cantina offers a unique bar experience anchored by rare tequilas and mezcals, with Blackmore travelling to Mexico to learn the stories behind the bottles and form connections with producers. It's one thing to sell a drink, but Blackmore does so much more by taking a deep dive into the origins of the spirits found behind the bar, passing the knowledge on to staff and patrons alike.
O Tama Carey, Lankan Filling Station
O Tama Carey kicked off her culinary career in the UK before exploring a range of cuisines in Sydney. The chef worked in the kitchens of Bistro Moncur and the acclaimed Billy Kwong before she took on the head chef role at Berta. Carey launched her first restaurant Lankan Filling Station in 2018, which sees a focus on house-made hoppers; the perfect vessel to scoop up a rotating selection of curries and sambols.
Jung Eun Chae, Chae
Chae is not a conventional restaurant — for one, it's located in a residential space. Jung Eun Chae quietly created a six-seat concept over the past two years with a focus on slow food; specifically traditional fermentation techniques that are commonplace in Korea. Each service is unique thanks to an ever-evolving menu which sees guests sample up to five dishes. The good news is Chae is moving to a larger property in Cockatoo, and there are plans to expand the fermentation program, too. But snagging a booking will likely be a little harder as word travels about the Chae magic.
Jacqui Challinor, Nomad
After a tumultuous two years (restaurant fire, venue relocation and numerous lockdowns across two states), Nomad Group Executive Chef Jacqui Challinor has emerged with a shiny new Melbourne kitchen and a reputation as the figure behind one of Sydney's most-loved pivots. The chef's takeaway offering saw everything from hundreds-and-thousands-topped buns to bombolone and hashbrowns fly out the door. Now, Nomad Sydney is back in the swing of things with a refreshed menu and a stellar house charcuterie offering. 2022 will be chock-full for Challinor, who will work across new openings in Melbourne and Surry Hills.
Shane Delia, Delia Group & Providoor
Chef Shane Delia is no stranger to the hospitality game, and the launch of Providoor was exactly what the industry needed to get through the challenges of COVID-19. The platform saw restaurants that would not usually offer takeaway or delivery jump on board to provide diners with a touch of normality during lockdowns. Providoor initially launched in Victoria in 2020 before debuting in New South Wales and the Australian Capital Territory this year, and is still giving customers the option to bring their favourite restaurants home.
Freja Dunnell, Elska
Maître d' Freja Dunnell's path to opening Elska started with a café and ended with a 12-seat fine diner. Freja and husband Chef Nathan Dunnell have created one of Brisbane's most-coveted eateries that offers diners a super-charged seasonal menu that encompasses 15 courses prepared according to Nordic cooking techniques. The restaurant aims to take guests on a journey of currency and passion, and the pair have absolutely nailed the brief.
Ben Devlin, Pipit Restaurant
The Northern Rivers coastal town of Pottsville in New South Wales was the location of choice for Ben Devlin and Yen Trinh to open their first restaurant in 2019. Devlin hasm worked as a chef for more than 15 years at eateries such as Noma in Copenhagen and Paper Daisy in Cabarita before he took the plunge and launched Pipit. The restaurant serves everything from wild game and native produce to subtropical fruits and vegetables. Almost everything is made from scratch in-house and there's a serious commitment to minimising waste and maximising output. Pipit has only been around for two years, but it's already way ahead of its time.
Josephine Perry Clift, Margaret
After stints at Rockpool Dining Group (pre-restructure) and Icebergs Dining Room and Bar, Josephine Perry Clift is now the maître d' of Margaret; Neil Perry's first solo venue. Perry Clift is running the floor of the Double Bay restaurant, which was ready to go right before lockdown was announced. The Margaret team fast made up for lost time, with the restaurant's bookings reaching capacity for months to come (even the wait list is exhausted!) It's a credit to the father-daughter team who have created a neighbourhood eatery that puts as much emphasis on food as it does on service; and they're both pretty great.
Paul Farag, Nour
Paul Farag's culinary creativity has gone from strength to strength after stepping into the executive chef role at Nour in Sydney's Surry Hills. After time at Josh Niland's Fish Butchery, Farag decided to explore the culinary traditions of his Egyptian heritage for the first time in a professional kitchen environment. The chef is currently working on a new concept for the Esca Group, Aalia restaurant, which will open in Martin Place shortly.
Hideaki Fukada, Kuon
Sydney's affinity for omakase has been unstoppable over the past two years, and Hideaki Fukada is behind two of the city's most in-demand restaurants. Kuon Omakase and Tempura Kuon are both located in Darling Square and offer a chef's table experience to patrons. Executive Chef Fukada changes cold-pressed sesame oil from Japan for each service at the tempura location and serves just 10 diners at a time, with the sea urchin egg wrapped in shiso hitting signature dish status. Over at the omakase restaurant, the Kuon team's commitment to excellence is on display with each morsel. A third Kuon location will open in 2022, which will showcase game meat cooked over fire.
Hannah Green, Etta
Hannah Green worked in front of house at Melbourne's Attica before opening Etta in Brunswick. The restaurant is a culmination of Green's understanding and knowledge, with Etta delivering a neighbourhood eatery that excels in every way. Like many businesses, Etta provided an at-home experience for diners over Victoria's six lockdowns. Green's dedication to her team has put Etta on the map, resulting in a restaurant that's raising the bar in a big way.
Lauren Eldridge, Berowra Waters Inn
Pastry Chef Lauren Eldridge has worked in a raft of high-end kitchens across the globe and alongside some of the industry's brightest culinary superstars. Overseas gigs at Le Cinq in Paris and Osteria Francescana in Italy saw the young gun hone her skills before she received the Josephine Pignolet Young Chef of the Year Award in 2016, making her the first woman to win in more than a decade. Eldridge went on to work for the Van Haandel group in Melbourne before returning to Sydney, where she is now heading up pastry at Berowra Waters Inn. Eldridge's creations are nothing short of intricate, with the chef playing a key role in taking the fine diner into its next chapter.
Brendan Fong, Lilymu
After time at Merivale's Mr Wong in the Sydney CBD, Brendan Fong headed over to Parramatta to head up Lilymu as executive chef. It's been one year since the eatery opened its doors and it has become a go-to destination in the booming area. The 'fusion' restaurant sees a culinary approach that centres around Chinese and South East Asian flavours. The roasted duck with Lao sausage is not to be skipped on, and the same goes for the char siu-style full-blood Wagyu blade fillet. Fong is crafting a dining experience that pays homage to the dynamic nature of Asian cuisines, with Lilymu firmly sitting in a lane of its own.
Jake Kellie, Arkhé
A trip to Singapore resulted in Jake Kellie taking up a job offer that would change the path of his career for good. After meeting Chef and Restaurateur Dave Pynt, Kellie worked his way up to becoming head chef of Burnt Ends. The Singapore venue rose to no.53 on The World's 50 Best and no.5 on Asia's 50 Best lists during Kellie's tenure. The chef is now back on home soil in Adelaide and has opened his first restaurant Arkhé. The venue is Australia's first open-flame restaurant and provides a diner experience unlike anything else.
Analiese Gregory, chef and author
Chef Analiese Gregory moved to Hobart in 2017 and has spent the past four years becoming acquainted with the fruits of the land. The chef departed the now-closed Franklin in 2019 and has since hosted dinners and events, penned a book called How Wild Things Are and filmed TV series A Girl's Guide to Hunting, Fishing and Wild Cooking. In between these milestones, Gregory has continued to expand her enviable skill set and is often out diving for urchin, making charcuterie and cheese or preserving olives — and that's not even scratching the surface.
Amy Hamilton, Liberté
The chef started her career as a dishwasher and now runs one of Albany's most in demand and acclaimed venues. Liberté is a wine and cocktail bar from Amy Hamilton that serves French-Vietnamese plates and checks all the boxes required for a memorable dining and drinking experience. The wine program shines a light on local Western Australian producers who are fast climbing the ranks and the chilli crab and garlic noodles are one of the most smashable plates going around. Hamilton is equally across the cocktail offering as she is the food, collaborating with bartenders to create mainstays (the Pink Galah has been around since 2017) and rotating specials, too.
Maurice Terzini, Icebergs
Restaurateur Maurice Terzini is behind one of Sydney's most iconic venues, Icebergs Dining Room and Bar, which never fails to impress even after all these years. Terzini recently sold CicciaBella in Bondi and is now gearing up to expand outside the city with a new venture in Byron Bay. Terzini's entrepreneurial spirit and eye for detail continues to inspire the industry to persevere and offer the very best in dining experiences. It's about quality, not quantity.
Tania Ho, Banh Xeo Bar
Tania Ho met her future husband and business partner Ben Sinfield at St. John restaurant in London before the pair moved to Australia. Ho and Sinfield ran early
versions of Banh Xeo Bar at the Paddington Markets in Sydney before they decided
to go all in. Banh Xeo Bar is located in The Cannery Rosebery and heroes the Vietnamese dishes Ho grew up eating. The venue was named after its signature dish, which fast became a hit with diners. Ho's creative thinking combined with Sinfield's expertise sees the venue plate up contemporary iterations of Vietnamese classics.
Nicholas Hill, Porcine
He took pub dining to another level at The Old Fitzroy Hotel in Sydney's Woolloomooloo before headlining The Milan Cricket Club. Now, you'll find Nicholas Hill running the kitchen of Porcine; a French bistro atop natural wine shop P&V Wine + Liquor Merchants in Paddington. The chef's enthusiasm for pork sees a whole beast-centric menu that heroes classic Euro techniques. After being faced with an extended lockdown not long after opening, Porcine is thriving once again, and while it might be a bit warm to crank the fireplace now, the venue has charm to boot — just look at the branded plates!
Rosheen Kaul, Etta
She has described herself as a latecomer to the industry, but Rosheen Kaul fast made up for any lost time. Kaul worked in kitchens including Dinner by Heston Blumenthal Melbourne and Smith and Deli. She penned The Isol(Asian) Cookbook in 2020, which was also the same year Kaul decided to take a risk and accept the head chef role at Hannah Green's Etta. Kaul and Green have excelled together over the past year, with the power pair creating one of Melbourne's hottest dining experiences — no mean feat in a competitive landscape.
Thi Le, Anchovy
Chef Thi Le opened Anchovy in 2015 and has continued to shape Vietnamese- Australian cookery ever since. The chef seamlessly marries different elements of South-East Asian cuisines with Australian produce and portrays the foundational elements of Vietnamese cooking without any filters: think onion, garlic and chilli, fish sauce and fermented shrimp paste. The Anchovy team made bánh mì during lockdown, which was so successful it resulted in the launch of a permanent venue next door. Ca Com Bánh Mì Bar rotates fillings and proteins and also sells take-home meals.
Junda Khoo, Ho Jiak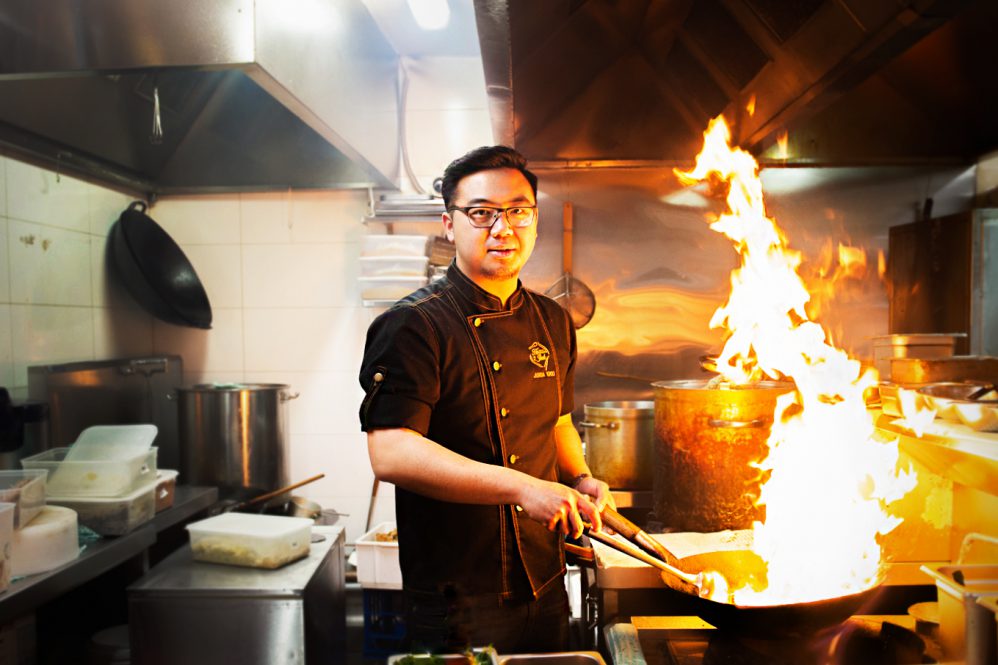 Chef Junda Khoo left a job in commerce to open Malaysian restaurant Ho Jiak with business partner William Xie, and Sydneysiders are more than grateful for the career change. Ho Jiak first launched in Strathfield, but it wasn't long before diners took note of the restaurant's laksa and signature char kway teow and the venue expanded to Haymarket and later, Town Hall. The Ho Jiak brand also introduced a sibling venue to the market this year. Amah is an exercise in collaboration between Khoo and former Merivale Chef Loong Oon, with the eatery's culinary direction inspired by food cooked by Oon's amah (grandmother). Four venues down, and Khoo has changed the scope of Malaysian cuisine in Sydney for good.
Rhiann Mead, Bennelong
Bennelong's head pastry chef was front and centre during the restaurant's Lockdown Lamington challenge, doling out some much-needed tips to help the public recreate Peter Gilmore's iconic dessert. Now, QLD-born and UK-trained Rhiann Mead is back in the kitchen leading the pastry team who have recently debuted the Golden Crackle (hello, caramelised potato starch!) There's no doubt Mead has the skills, and we can't wait to see what the next year holds for the chef.
Michael Madrusan, The Everleigh
Michael Madrusan has always strived to exceed expectations. The bartender is behind beverage consultancy group Made in the Shade and runs acclaimed Melbourne venues including The Everleigh and Bar Margaux. Not to forget Navy Strength Ice Co. or The Everleigh Bottled Cocktail Co. Madrusan and his partner in business and life Zara are raising the standards of fine drinking in Australia in-venue and at home. And that's certainly something to cheers to.
Juan Carlos Negrete Lopez, Maíz Mexican Street Food
When Juan Carlos Negrete Lopez envisioned Maíz Mexican Street Food, he pictured a space that would represent his community. The former Three Blue Ducks chef was determined to introduce a wide range of traditional Mexican foods that went beyond tacos and margaritas. Starting a business is trying at the best of times, but the uncertainty of the pandemic left Lopez with an even greater challenge. Lopez opened Maíz in Sydney's Newtown in 2020, with the venue delivering an experience that echoes the food found in the chef's hometown of Baja California, Mexico. Lopez has a background in permaculture, which sees sustainable farming form an important pillar of his culinary approach.
Jerry Mai, Pho Nom & Bia Hoi
The restaurateur and chef has been on a roll over the past few years, expanding the Pho Nom brand and launching Bia Hoi in Melbourne. Jerry Mai turned to takeaway and delivery to get through Victoria's six lockdowns and also headlined a number of pop-ups at a winery, brewery and farmers market, which saw the chef and her team create everything from spit-roast pork bánh mì to sticky lamb ribs and oysters with nahm jim. While the at-home offering has been retired, diners are now able to get their hands on a steaming bowl of pho straight from the kitchen and sink an icy Vietnamese beer from the tap — bliss.
Shannon Martinez, Smith and Daughters
The poster chef for plant-based dining continues to dominate with her enviable skills and business acumen. Martinez merged Smith and Daughters and Smith and Deli into a mega vegan hub this year, bringing together the best of both worlds under one roof. She was also a key part in developing Ovolo Hotels' vegetarian restaurant Lona Misa in South Yarra. The chef has overcome a battle with breast cancer and is now in the clear after undergoing treatment. In spite of recent challenges, she has never waivered on her commitment to providing an inclusive eating experience to the public.
Josh Niland, Saint Peter
Josh Niland has changed the way people cook with and view seafood for the better after opening pioneering restaurant Saint Peter in 2017. The chef takes a whole-fish approach to cooking, using everything from the eyes and skin to the tail. Niland
and his wife Julie expanded their venue portfolio with the launch of Fish Butchery
in 2018, with another location set to open in Waterloo shortly. The pair certainly
didn't slow down this year with Charcoal Fish arriving in Rose Bay during lockdown.
The chicken shop riff uses Murray cod in place of chooks, bringing sustainable and
thoughtful eating to the suburbs. Niland is covering all the casual, retail and fine dining bases, proving you can have it all.
Dash Rumble, Pilot
She's one half of the force behind Canberra's Pilot restaurant in Canberra's Ainslie, and Co-Owner Dash Rumble has steered the 30-seater through numerous lockdowns to brighter days. What makes Pilot so great is not just the food from chef team Ross McQuinn and Malcolm Hanslow, but the all-Australian wine list, modern but laidback interior and the knowledgeable front-of-house team who create an atmosphere that's all about keeping the good times rolling.
Jesse Orleans, Happyfield
Nostalgia is back in a big way, and it doesn't get more old school than a stack of ultra-fluffy pancakes and a mug of coffee. Jesse Orleans opened Happyfield in Sydney's Inner West with Chris Theodosi in 2020 and the team have channelled big diner energy into their debut venue. Orleans spent time in highly lauded kitchens in Canada before making a snap decision to move to Melbourne where he worked in a Footscray café. Sydney beckoned, and Orleans wound up at The Grounds where he met Theodosi and the rest is history. Happyfield's sunny interior fuels an experience of enjoyment, and the egg sandwiches are just as bright.
Chris Lucas, Lucas Restaurants
He's been the voice of the Victorian industry since the pandemic began, and Chris Lucas has been a force to be reckoned with over the past 19 months. The Lucas
Restaurants CEO called for government assistance when it wasn't given to the sector, supported staff and launched initiatives to give a little love to frontline workers. Not to forget the arrival of the much-anticipated Society and Yakimono restaurants in Melbourne's CBD. There's undoubtedly more to come from the powerhouse that is Lucas Restaurants, and we can't wait to see what's next from the experience makers.
Melissa Palinkas, Young George
Melissa Palinkas is the head chef and owner of the award-winning Young George and Ethos Deli + Dining Room in East Fremantle, Perth. Her specialties lie in the production of charcuterie and showcasing sustainable cooking practices through dishes that put ingredients first. Palinkas is known for her no-waste approach to cooking and is of the belief that every part of an animal or vegetable can be used. The chef's venues encourage community connection, with her menu sparking a conversation around seasonal eating. Continuing to grow as a chef is a must for providing an evolving dining experience, and Palinkas continues to hit it out of the park by pushing the boundaries.
Alanna Sapwell, Beach Byron Bay
The Queensland-born chef returned to the Sunshine State after making her mark at Josh Niland's Saint Peter to take on the head chef role at Arc Dining in Brisbane. While the Howard Smith Wharves restaurant closed last year due to the impacts of COVID-19, Alanna Sapwell launched Esmay; a pop-up at Noosa's Wasabi Restaurant. Come February 2022, Sapwell will start her next chapter as head chef of Beach Byron Bay. We're keeping our eyes peeled for her debut menu, which will see the chef's signature produce-centric approach return to the dining scene.
John Rivera, Kariton Sorbetes
The former fine dining chef left restaurants behind to start his own business with Chef Minh Duong last year. The pair launched Kariton Sorbetes; a South-East Asian dessert concept that heroes the flavours they grew up with: think buko pandan, ube, leche flan and more. Kariton has recently expanded from tubs to specialty desserts including a riff on a lamington and things on sticks. The brand will also be growing from an online-only concept to a bricks-and-mortar store in Footscray, Melbourne. Rivera and Duong have changed up the local gelato landscape for good, and we couldn't be more here for it.
Sharon Romeo, Fino
Sharon Romeo first opened Fino with business partner and Chef David Swan in McLaren Vale in 2006. The restaurant made a move to the Barossa Valley in 2014, where it has since maintained a reputation for excellence. The Fino team stuck with one venue until 2019 when they expanded to Adelaide's CBD with the launch of Fino Vino. Front-of- house whiz Romeo has received accolades for her outstanding skill set and commitment to providing a dining experience patrons won't forget. A focus on provenance, good wine and warm service form the foundation of Fino, along with the inimitable charm of its superstar maître d'.
Tristan Rosier, Arthur & Jane
Chef and Restaurateur Tristan Rosier first made waves with his Sydney fine diner Arthur in 2018. Now, he's opened Jane; a more casual neighbourhood eatery a stone's throw away from its sibling venue on Bourke Street, Surry Hills. While Rosier will be heavily involved, Arthur chefs Kevin Oh and Victoria Scriven will be at the forefront of the 30-seat concept. Rosier restarted COVID-19 pivot Arthur To-Go during the last lockdown, serving the local community and beyond with a revolving menu, and of course, that sourdough. Good things come in small packages, and two hits in three years is a sign of what's to come for Rosier and his team.
Nick Tesar, Bar Liberty
Bar Liberty Manager Nick Tesar may have spent much of the last year and a bit in lockdown, but the acclaimed drinks figure was more than occupied creating takeaway offerings and continuing his work at Marionette Liqueur. The local company has released everything from curacao and apricot brandy to amaretto, and it looks like there's more on the way. Tesar has returned to the bar to pour and mix drinks at Liberty, which is firmly back in the swing of things. We hear he makes a pretty damn good highball.
Anna Ugarte-Carral, The Old Fitzroy Hotel
After stints at fine diners Momofuku Seiobo, Noma and Lyles, Anna Ugarte-Carral took on her first head chef role at The Old Fitzroy Hotel in Sydney's Woolloomooloo earlier this year. The 2020 Josephine Pignolet Young Chef of the Year Award winner has established a kitchen that honours collaboration and sees the team work together to create a cohesive menu. The position has provided a ripe opportunity for Ugarte-Carral to sharpen her management skills, and she's certainly risen to the challenge.
Adam Wolfers, Gerard's Bistro
It's been almost two years since Adam Wolfers left Sydney for the warmer climes of Brisbane, and the Executive Chef of Gerard's Bistro has certainly played a key role in the city's booming dining scene. Wolfers' culinary approach sees the chef honing the restaurant's roots in the Middle East and the Maghreb while calling on his own culinary experiences with Jewish and Hungarian cookery. The kitchen has a DIY approach and makes everything from labne to its signature wood-fired bagels in-house.
Matt Whiley, Re-
Bartender Matt Whiley brought his award-winning London bar Scout to
Sydney's Dolphin Hotel in 2019 and decided to stick around. Whiley recently opened Re- in South Eveleigh, with the bar aiming to produce as close to zero waste as possible. The bartender's seasonal outlook sees drinks made from locally sourced fruits and vegetables that would typically be thrown away. Collaboration and conscious fine drinking is the name of the game for Whiley, who works alongside his team to push past barriers and offer a refined drinking experience that makes you think twice about waste.
Mitch Westwood, Westwood
Chef Mitch Westwood delved into business early as the co-owner of Tony's Pizza and Pasta in Jannali before heading into the kitchens of pizza-centric venues CicciaBella and Bella Brutta. Last year, he opened Westwood in Sydney's Newtown. The no-frills venue sees chef team Jack Owe and Westwood churn out some of the city's most in-demand pizzas (hi, garlic and honey). The eatery has fast become the go-to for locals and diners from afar, but it's a good idea to pre-order in advance to avoid any disappointment. Thank us later.
Shirley Yeung, Foxtrot Unicorn
Shirley Yeung is the bar manager of Foxtrot Unicorn Bar in Perth and the co-founder of Mix Haus, a not-for-profit that supports women in hospitality. Yeung started mixing drinks in 2015 and has gone on to become a notable figure in the bartending industry, making the Drinks World Top 25 Bartenders list and being named the West Australian Bartender of the Year. Among her years of training and experience, Yeung has been an advocate for a safe and inclusive bar industry, which is intrinsic to her management style. Her work with Mix Haus alongside fellow Bartenders Pippa Canavan and Reid Gunter aims to educate and train women looking to join the industry.
Jean-Paul El Tom, Baba's Place
The director of flavour of Baba's Place traded a career in engineering for the kitchen, and the end result was the creation of a venue that's unlike any other. Jean-Paul El Tom worked alongside chefs including Butter's Julian Cincotta and Fish Shops' Joel Bennetts before launching an under-the-radar pop-up. Baba's Place is now up and running in Sydney's Marrickville with a menu that pays homage to the 'suburban' food the team grew up with. It's hard to pin down a particular cuisine, but dishes can be linked to Lebanese, Greek, Chinese and Macedonian traditions. You can't put Baba's in a box, and that's what makes it so great (plus the plastic-clad tablecloths).