Modern cookbooks are more than a catalogue of recipes. They've become vessels for hospitality professionals to examine their industry, explore the history and processes behind different cuisines and illuminate the way we eat and drink. Two chefs and a sommelier share their experiences putting pen to paper with Hospitality.
The desire to write a cookbook is natural for many chefs, says Nino Zoccali. The chef/owner of Sydney's Pendolino and La Rosa The Strand comes from an academic background, and his double degree in economics and Italian is evident in his latest book Venetian Republic. It's book number two for Zoccali, who has a threepiece deal with Murdoch Books. "It's a nice thing to do; to document and focus on a concept or an idea and then do the deep research that's required to write a book," says Zoccali. "For most chefs, food has a lot of historical context — dishes don't exist in a vacuum — so most enjoy the research process and a lot of us really enjoy writing."
Lennox Hastie of Fink's Firedoor is a chef through and through, but the recently crowned Good Food Chef of the Year never saw himself writing a book. His first brush with publishing came by way of a meeting with author Michael Pollan, who was working on food history book Cooked. Years later, Hastie contributed to Maeve O'Meara's Food Safari Fire and met Hardie Grant publishing director Jane Wilson. "She felt I had a compelling story," says Hastie. "Not only because of my experiences and the information I've accrued over the years, but because of my background as a chef and how I found fire — learning to play with it was such a dramatic turning point in my life."
Now wine director at Melbourne restaurant Attica, Jane Lopes was living in New York when the first opportunity to write a book about the wine industry came knocking. She'd just done an interview with the University of Chicago's alumni magazine which prompted a literary agent to reach out over Twitter. Intrigued, Lopes, who has a degree in literature, decided to see what they had to say. The proposal was a Kitchen Confidential-style insider's guide to the wine industry — not an angle Lopes was keen on pursuing. Still, it put the idea in her head. "It was definitely the spark that made me think I should write a book," says Lopes. "I went away and thought about what I would want the book to be and came up with the concept for Vignette."
It took roughly four years for Vignette to make its debut. On 1 September this year, the Hardie Grant-published book was released.
All three authors began with strong concepts and worked with publishers that would provide guidance while allowing them to stay true to their vision.
Zoccali set out to produce a manuscript that was both a cookbook and an examination of the history behind the recipes. The book encompasses a journey that reflects the influence of the Venetian Republic from the empire's seat in Venice to Adriatic Croatia and the Greek Islands. It was inspired by Zoccali's personal connections to the regions through his industry peers and family. "I've been passively doing the research for 20 years now," he says.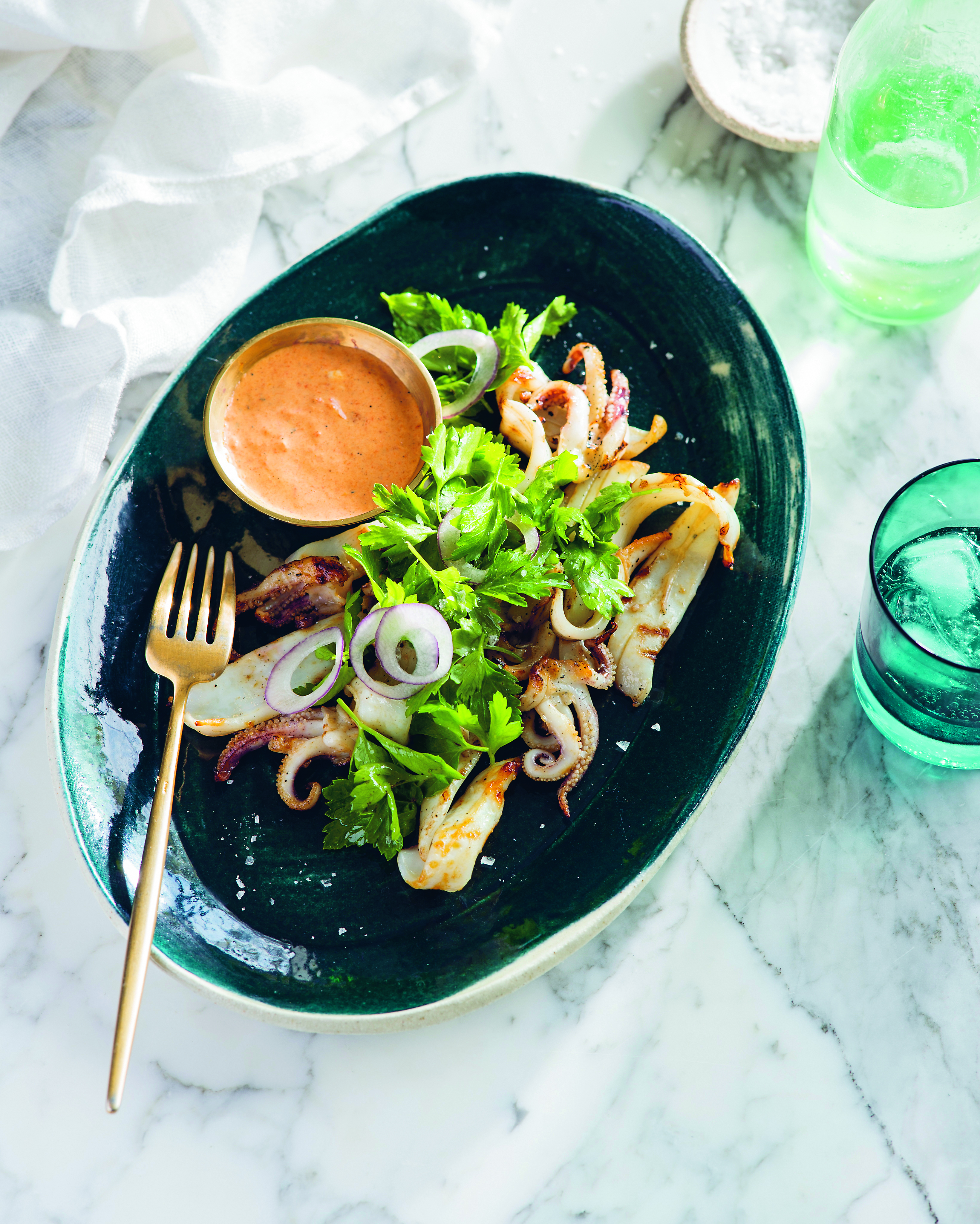 When it came to putting the book together, Zoccali worked closely with Pendolino and La Rosa The Strand's marketing coordinator Danielle Bowling. Zoccali says his publishers were supportive of their editorial choices. "They knew we'd done a lot of research and that any decisions we made were thought through."
Requests from magazines, other chefs and the public for advice on cooking with fire had reached fever pitch after Firedoor opened in Sydney's Surry Hills. Combined with the level of interest generated by Food Safari Fire, the questions got Hastie thinking about his knowledge and the lack of digestible information available. "I started looking at barbecue books, and they were limited," he says. "I found they didn't go into great depth; the majority were about meat. There wasn't a lot about wood, which is what I'm passionate about."
Hastie had help from Fink's marketing and brand manager when it was time to organise the content. "I worked closely with Elizabeth Hewson," he says. "She's passionate about cookbooks and she wrote one herself [Moving out… Eating in: A Cookbook For Home Leavers]. She was so helpful in terms of how to divide it up."
The collaboration led to incorporating elements of memoir to communicate Hastie's personal connection to fire teamed with recipes and technical sections about wood and equipment. "Certain parts took longer than others," says Hastie. "The gigantic table of wood [types] still haunts me to this day."
Lopes was initially met with resistance. Publishing houses are historically risk averse and the format — a blend of memoir and informational text — put many on guard. Lopes stuck with it, shopping around until she discovered Hardie Grant through the restaurant manager at Igni who relayed chef Aaron Turner's positive experience writing Igni: A Restaurant's First Year. "I had a few meetings with them and they wanted to publish it," she says. "When I had that relationship with the publisher, I was open to their feedback and their expertise, but I think they were also respectful of my vision overall."
From that point, Lopes produced the book in roughly eight months alongside completing the gruelling top-level exams for the Court of Master Sommeliers (CMS) that resulted in all but one of the 2018 Master Sommeliers being stripped of their titles. "I got the book deal in April or May 2018 and was on course to take the CMS exam in July," she recounts. "They wanted the manuscript in mid-November. I had almost finished the narrative part of the book right before the scandal broke. We knew it had to be addressed, so there's an epilogue that speaks to [the situation]. What I'd already written was very much about how meaningful the exam had been to me and I still absolutely stand by that … so I kept it all in there."
When it comes to developing recipes — still a crucial element despite the slant towards narrative content — it's trial and error. There are some things to bear in mind, though. "I didn't want to make an historical document; I wanted to make a book that was useable, that people felt Zoccali. "Most of the recipes I would cook at home, so we tested them all to make sure they were going to work."
Venetian Republic has been published in the US, the UK, Australia and New Zealand, so Zoccali had to take an international approach to ingredients. It's a challenge Hastie is all too familiar with. Finding Fire has now been published in multiple countries such as Italy and Spain. "I wrote the book in Australia, so it features a lot of Australian ingredients and woods," says Hastie. "But there are also suggestions for different things you can do in other parts of the world."
Venetian Republic, Finding Fire and Vignette were all constructive projects. However, it's still advisable to proceed with caution — delivering a book is a mighty commitment that drains personal time, which is already limited for many hospitality professionals.
"I can easily understand how people start and don't finish," says Hastie. When he was writing Finding Fire, Firedoor was a six-day-a-week operation. "My one day off was dedicated to doing the book. It was 18 months to two years in the making." Zoccali walked away from Venetian Republic with a deeper understanding of the dynamic behind Mediterranean dining. "Every time I go to Greece, you hear that they were ruled by the Venetians," he says. "It's probably the least obvious connection … but they really changed the way Mediterranean people live and dine."
Sometimes, the revelations were personal. "I looked at a lot of my previous struggles in the industry and struggles with my health as being obstacles to my success, my accomplishments and my growth," says Lopes. "Writing Vignette really made me feel like I wasn't successful in spite of those things; I'm actually successful because of them. It changed my outlook on my own trajectory."
Hastie says he learned a huge amount about his own relationship with cooking through the act of writing. "You have stores of information you forget about until someone asks you a question and it reminds you of a story," he says. "It brings back lots of food memories' it's great to be able to record them for posterity … it's about consolidation of knowledge. To then put that into language that people can read and understand and maybe even find out how I see fire."
The reason Lopes hadn't carved out a niche writing despite a university education is matter of fact. "I didn't feel like I had anything to say," she says. "I feel there's no reason to write unless I have something to contribute to the conversation."
If it's important to start out with something to say, it's equally as important not to yield to outside pressure. "Once you have a vision of what you want to say, stick to it," says Lopes. "If you're just doing it to fulfil someone else's idea, I think it'll be hard to get to the finish line."
Hastie compares the process to opening a restaurant. "Typically, you have a long gestation period," he says. "Both are things that don't happen overnight. Like working with fire, you have to be patient with the process."
Writing a book is a long and at times arduous task according to Zoccali, Hastie and Lopes. Is it worth it? The answer is a resounding 'yes'.
"There's a hell of a lot of work," says Zoccali. "Be prepared for that — it's a lot of your own time you'll put into it. But if you get the opportunity, it's a great thing to do."
Photography Alan Benson for Venetian Republic
Venetian Republic by Nino Zoccali, Murdoch Books, RRP $49.99. Finding Fire by Lennox Hastie, Hardie Grant, RRP $60. Vignette by Jane Lopes, Hardie Grant, RRP $40