2020 has been tough for operators, but innovation has helped venues navigate challenges and continue to keep the doors open.
Here are some trends we're already seeing that are set to be big in 2021.
Takeaway, delivery and at-home meal kits
According to IBISWorld, the fast food and takeaway foodservices market size, measured by revenue, is $16.9 billion in 2020.
Operators are paying special attention to takeaway menus after enforced restaurant shutdowns, and venues have had great success with takeaway food and drink that provide an element of comfort to customers, with pasta dishes, charcuterie and slow-roasted meats all proving to be winners.
Many operators have also delved into the meal-kit world, with Merivale launching an At Home offering which sees customers finish off dishes from restaurants including Mr. Wong, Fred's and Totti's. The program has continued, despite restaurants in New South Wales now seating customers per spacing rules.
Delivery has experienced a boom across the country. More than 4 million Australians use delivery services to order food and the industry has grown by 81.1 per cent between 2015 and Uber Eats, Deliveroo and Menu Log continue to lead the market, with new player DoorDash launching earlier in the year. Many operators have chosen to keep delivery in-house to skip commission fees, using existing staff to complete orders.
Set menus
Limited or set menus put the power in the operator's hands and provide myriad benefits — especially during a time where every dollar counts. The past few months have seen many venues cut à la carte menus and instead provide a fixed offering. Operators are able to keep produce orders lean, know how much revenue they'll be pulling in per head and maximise productivity in the kitchen.
When Hartsyard in Sydney's Enmore reopened for dine-in trade, the team ran with an $88 tasting menu and later introduced a small à la carte offering as dine-in numbers increased. On the flip side, Tequila on York ran a one-month pop-up with an eight-dish set menu.
Product ranges
Some venues have dabbled in creating products during holiday seasons, but many are now seeing the value in creating a core line available all year round. Whether it's jams, chutneys, pickles or relishes, a product range is a great value-add for customers looking to support local business.
Better yet, advertise the products on your menu and incorporate them into dishes so guests can try before they buy. Fermented and pickled products can help reduce kitchen wastage and selling grocery essentials such as sourdough and artisan salts offers convenience to customers looking for products that aren't available at the usual outlets.

Designing a line of tote bags, T-shirts, jumpers or caps is a good way to get the word out about your venue and define a brand's aesthetic beyond food and drink.
Low-ABV beverages
Research from Roy Morgan has shown Australians are drinking less alcohol, with 28.9 per cent largely abstaining or not consuming alcohol, and 9.5 per cent reducing the amount they consume.
The low-ABV and alcohol-free category is relatively green in Australia, but has continued to grow with the increasing popularity of hard seltzer, alcohol-free spirits and low-ABV beers.

Hard seltzer contains a small amount of alcohol and is one of the lowest-calorie options on the market, typically flavoured with fruit. US brand White Claw recently landed in Australia, joining products from other players including Smirnoff, Moon Dog, Hop Nation and more.
Table ordering and digital menus
Venues will need to continue to adhere to COVID Safe guidelines, and minimising touchpoints should remain a focus for operators. There has been an increased presence of technology that allows customers to view menus on their phones, order meals and pay when they're ready.

Platforms including Mr Yum and OrderUp have risen in popularity and enable customers to view menus using a QR code, ultimately removing the need for physical menus and wait times. Digital platforms can help restaurateurs update menus with ease and redeploy staff to other duties.

Plus, research has shown customers are inclined to spend more when ordering through a digital platform. In the US, Taco Bell reported a 20 per cent increase in digital order sales compared to those made with a server. The technology also means staff can spend more time with customers discussing the story behind the venue or suggesting recommendations instead of taking orders and processing payments.
All-in-one venues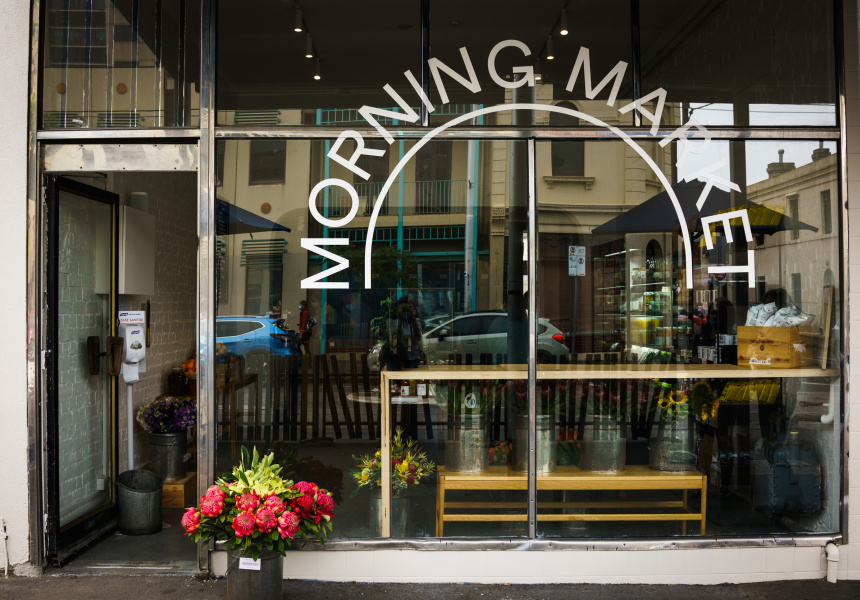 Convenience continues to be king, and operators have identified a gap in the market for venues that can do it all. Melbourne Restaurateur and Chef Andrew McConnell turned wine bar Marion into a grocery hub during lockdown, and the venue was such a hit it's moved to a permanent home under the name Morning Market. The concept offers pantry staples along with coffee, flowers, salads, sandwiches and fresh produce.

In Sydney, the team behind venues including Ragazzi and Love, Tilly Devine saw an opportunity to open a new type of venue in the CBD. Fabbrica is selling fresh pasta by the gram along with a revolving roster of artisan produce, sauces, cheeses, sandwiches, house-made breads and everything customers need to make the ultimate pasta dish.
Increased hygiene protocols
Hospitality venues have always maintained strict hygiene protocols, but increased cleanliness is now more important than ever. Staff should pay special attention to cleaning tables between customers, ensuring disinfectant is used on surfaces. High contact areas such as door handles and POS systems should also be regularly disinfected throughout the day.

Hand sanitiser should be readily available to staff and customers and staff should be encouraged to wear face masks if they want to. It's a good idea to remove condiments and communal cutlery containers and instead have staff set tables as customers are seated. Operators are also required to capture customer contact information to ensure efficient contact tracing if a person with the virus visits your venue.
Dietary requirements
The number of Australians adopting vegetarian, gluten-free and vegan diets continues to rise, as does the demand for a quality food and beverage offering that ticks the dietary boxes.
We've seen the ongoing growth of almond and oat milks, which have become the non-dairy preference for baristas. On the food front, plant-based dishes continue to gain popularity as more diners choose to limit or eliminate animal products. Restaurants in Ovolo hotels in Australia have chosen to go vegetarian for one year, with chefs Roy Ner in Brisbane and Paul Wilson in Canberra designing new offerings.
Connecting with producers
The relationship between chefs and producers is intrinsic to the industry. When chefs learn about where produce comes from, they're able to not only create better dishes, but pass the information on to customers.
Provenance continues to be of the utmost importance for venues, with more and more customers becoming increasingly aware of supporting local farmers and sustainable practices. While COVID-19 has made it difficult to travel overseas, it's a ripe opportunity for foodservice professionals to discover local farms and form new connections.