Queensland's Airlie Beach is home to white sand, crystal-clear waters, fields of sugarcane and mangos galore. But it's also the location of choice for an agave farm, which has an ambitious goal to grow 1 million plants for one purpose — creating an Australian agave spirit.

The project is located 45 minutes north of Airlie Beach in Bowen and is spearheaded by Top Shelf International (TSI); the company behind Ned whisky, Grainshaker vodka and a soon-to-be released and yet-to-be-named agave spirit, loosely 'inspired' by tequila and mezcal.

Tequila and mezcal are only able to be made in Mexico, with producers following strict guidelines from appellation and regulatory bodies that outline everything from the type of agave used (Agave tequilana for tequila) to fermentation and labelling procedures.

The products are incomparable, in the same vein as Champagne and sparkling wine. But TSI is taking a chance on the spirit, which the company believes has the potential to be a $100-million-a-year business that's predominantly export.
Hospitality visited the farm to check in with resident agronomist Chris Monsour to discuss the growing process of agave, the conditions needed for optimum plants and what the harvest process will look like.

TSI purchased a property in Ayr, Queensland, in 2019 which had around
2,000 blue agave plants on it that were originally sourced from Mexico. The agave were an experimental crop and were essentially uncared for, growing freely for more than 10 years. The agave were harvested along with the pups (agave offshoots) and bulbils (new plants grown from a bud at the flower's base), which went on to form the foundational plantings at TSI's Bowen farm called Eden Lassie.

Eden Lassie's land hadn't been worked in many years. Chris Monsour, an award-winning agronomist and Director of Prospect Agriculture, says the soil condition varied across the property.

"The weeds were out of hand; some parts had depleted soil whereas others had fertile soil," he says. "All of the soil on the farm is suitable even though there's variability in the quality. Agave likes soil that's well-drained, but it can handle marginal soils."

Monsour and his team have just hit the 200,000-plant mark and are officially one-fifth of the way through their agave planting quest. The plants comprise different varieties of blue agave that were initially grown in a gene garden in Mexico.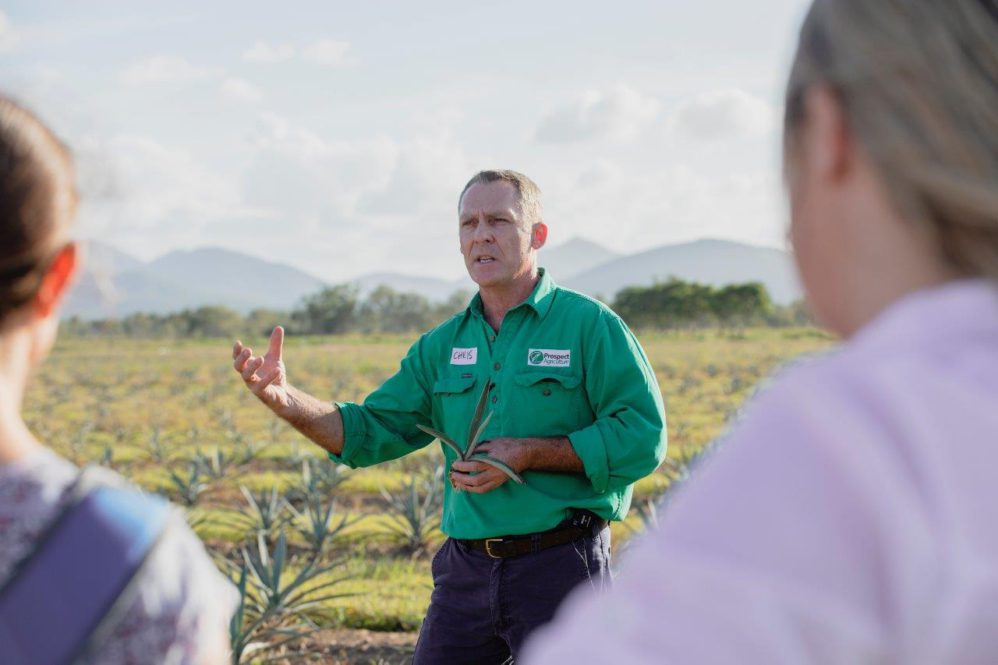 "The idea was to see which selections handled the conditions in Ayr, and all of them thrived really well," says Monsour. The most depleted areas of the farm were selected for the first plantings in order to gauge adaptability. Agave is known to grow out of rock crevices and survive the most challenging conditions, and the less-than-optimum soil condition did not pose a problem for the plants.

While agave is incredibly hardy, Monsour says the plants respond to the right amount of irrigation. "We did an early trial where we grew plants with irrigation and some without, and we haven't seen a significant difference between the two," he says.
"It's more they need a little bit of moisture to get established; we've also had good weather since they went in the ground. We can push them a little harder because we can irrigate and provide some nutrients. It's all based on measuring the rate of growth, how much biomass there is and ultimately how much sugar accumulates until harvest."

Monitoring tools and various forms of technology have been deployed across the farm since the beginning including drones and soil probes. A drone fitted with a multispectral camera captures infrared lights and provides an in-depth look at a plant's current status.

"The cameras pick up wavelengths of light and you can convert it into an image that provides a guide of the health of the plant," says Monsour. "Flying the drone and recording images is part of our R&D program; we can see how the plant is responding to certain treatments including compost and irrigation."
The same images are also used to create a 3D point cloud. "It has all sorts of points which correspond to the edges of the leaves, around the stem and it can measure how much biomass is above the ground," says Monsour. "It's an accurate way of measuring the growth of the plant and benchmarking the best nutrition and irrigation practices."

Soil moisture monitoring tools are found across the farm, with sensors located every 10cm along the probes. "You can watch the plant extract water out of the soil during the day and it stops at night," says Monsour.

"It helps us know when to provide irrigation and ensure the plant is kept in a non-stress mode. We're not wasting water and it's targeted to the root system."
The harvesting process will look very different to techniques utilised in Mexico, which are largely completed by hand. TSI will be investing in bespoke machinery and technology that will see around 800 plants harvested a day. Monsour predicts the harvest process will be entirely mechanised.

"Some machinery will be automated and it will basically replace all physical labour," he says. "We're in a sugar-cane-growing region, and a lot of engineering people here have been involved in designing equipment over the years, so we can design equipment with them for our purpose. Like anyone who starts out trying to mechanise fruit and
vegetable harvesting, there are a lot of tricky things to develop."

Harvesting machinery will be linked with technology such as drones, with the two working hand in hand. "We will use drones to single out individual plants and guide the equipment to harvest them first followed by the next level and then what's left," says Monsour.

With that said, the harvest of the first Eden Lassie agave is still a few years away, with the first plantings estimated to be ready in the next three to four years. In that time, the farm will also undergo a development which will see the creation of an on-site distillery, powered by hydrogen and solar technology, along with a production facility and a visitor centre.

Tequila and mezcal have both experienced a sharp surge in growth among Australian drinkers, with the launch of a localised product taking a shot at the booming category.